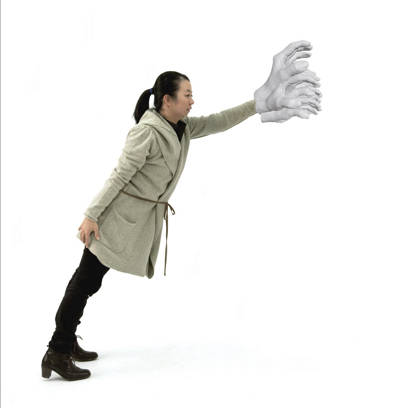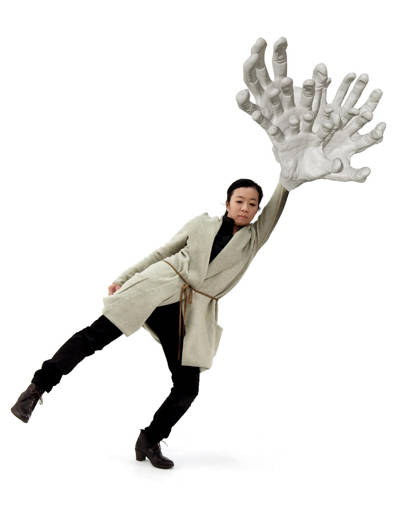 Sat 10th Oct 8p.m. CET
Ya-Wen Fu »Metamorphose«
Ya-Wen Fu / Charles Washington
in collaboration with Daniel Romero & Bert Palm
Premier
Interactive sound installation and performance

Gehestraße 8, 01127 Dresden
openstreetmap
No entrance fee
Registering contact data: input name & email address
at

, take a screenshot of the QR code, bring it with you. Or register on site. We don't see the data. / A face mask is recommended, but not mandatory.
---
Extra: Sun 11th Oct »A special brunch with Ya-Wen Fu« 11:00
Our body is shaped by and reflects culture and society. Taking a stand is also about positioning oneself through posture. What do we carry within us and what do we carry with us. How do we walk, stand or throw? Movement, Torture and more recently AI have dealt with this, and the Taiwanese artist Ya-Wen Fu, who lives in Leipzig, has addressed these issues for many years.
Reports about her research process or the deconstruction of the artistic instruments (metal, wood, leather, acrylic glass, motor, sensor, the master herself, as well as a helpful colleague and the audience) reveal nothing about the actual poignancy of her work. Her entirely unsentimental aseptic laboratories are media rooms, in which belts become vectors, and screens and other artifacts of media art are placed like the objects in Yves Tanguy's landscapes, senselessly significant fetishes of media art. Ya-Wen Fu will wear one of her wonderful Beckett-Bondage constructions and harassed by this new spinning apparatus, it will change her usual posture and then ours too.
Ya-Wen Fu
was born in Taiwan in 1980. She lives and works in Taiwan, Berlin and Leipzig, where she received her Meisterschüler's degree in media art from the HGB Academy of Fine Arts Leipzig. Her work focuses on the relationship of body and space. Ya-Wen Fu grasps this relationship not only through the description of a subject and its surroundings, but by a differentiated conception and critical analysis of the subject in space. She examines the space in which you feel and act, the space in which the self that perceives exists and likewise where this self begins in its surroundings.
Within the framework of the CYNETART Festival 2018, the Saxon State Ministry of Science and Art (SMWK) in cooperation with the Office for Culture and Monument Protection of the State Capital Dresden) has awarded the Artist-in Residence Scholarship to Ya-Wen Fu for the realization of her artistic work "Ein verwandelter Wurf". After an artist-in-residence at the TMA Hellerau in 2019, the final work will be presented for the first time at the Kunstraum GEH8 and subsequently at the POCHEN Biennale Chemnitz as well as at the Taipei Municipal Art Museum.
The public presentation is sponsored by the Cultural Foundation of the Free State of Saxony and the Ministry of Culture Taiwan.
Our personal thanks go to chin chin pottery Tainan and Studio Perkūnas Kaohsiung City.
http://www.bearfuinberlin.com/
Facebook Event Page
Save in Calendar



Back to Main